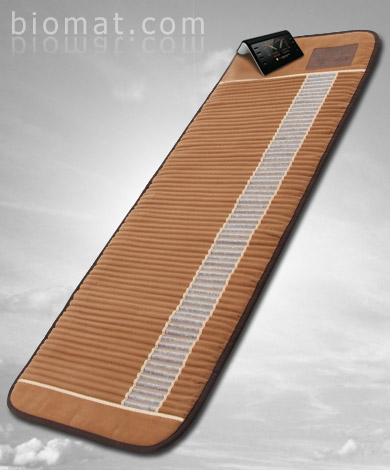 BioMat
The BioMat is a device that aids in stress relief with Far Infrared Ray heat. It promotes a feeling of well-being for a healthier mind and body through temporary relief from:
Minor muscle pain
Minor joint pain and stiffness
Joint pain associated with arthritis
Muscle spasms
Minor sprains
Minor strains
Minor muscular back pain
You may also find that the BioMat:
Reduces stress and fatigue
Soothes and relaxes
Supports the immune system
Improves sleep (if associated with pain relief)
Reduced inflammation (where applied)
Increased tissue oxygen (due to increased circulation where applied)
Provides such muscle relaxation that you may sleep better if you experienced occasional difficulty sleeping.
With a BioMat, home consumers can now easily set up their BioMat to self-regulate the temperature and time that works best for each individual in the comfort of their own home delivering deep penetrating results.  BioMat products are medical-quality, FDA-Approved and based on award-winning research.
Contact Andrea for yours today.